One interesting aspect of British corkscrews is the fantastic work put into specific details of the corkscrew. The badges usually were of excellent crisp quality as were the markings stamped into the corkscrew revealing the manufacturers name and often where it was assembled.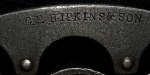 The Whelan 1881
patent by Hipkins
and son, Birmingham.
I just adore Edwin Cotterill of Wolverhampton. Cotterill was mainly into locks and other safety products that requires some sort of a clutch. This CS has a very advanced clutch mechanism. Patented and self adjusting moving clockwise and anticlockwise to withdraw.
Brookes and Son, Sheffield.
BB Wells at 431
west strand , London.
Quality as always....
Lund at fleet street and 57 cornhill.
James Heeley & Son mark on a Mabson Thomason. Heeley made Thomasons, sidewinders and other CS by licence or patented.
Robert Jones & Son, Birmingham.
James Heeley & son,
Birmingham.
Crisp exceptional
quality !
Lund patent on the screw. Lund of London made significant high quality items until his death. Although simple, this lever arm CS is not an exception.
Early badge for Wilmot & Roberts.
Lovely C. Jones badge. This is NOT the known manufacturer but someone less known. Maybe a relative, but not established. Excellent badge. Love the work put into it !
Robert Jones and Son, Cheapside Birmingham. The badge of the man himself.
Heljestrand mark, Eskilstuna Sweden.
The Liberg of Rosenfors ( Eskilstuna ) mark on the handle of a bell assisted direct pull CS.
Mark for Procter Patent Elsecar. Stamped twice. British patent 2664.
C.W. Dahlgren on the handle of a propeller CS, Eskilstuna Sweden.
Chinnock mark on a sliding frame. Patented 1862.
Henry Verinder, St Pauls, London.
Thomason badge with a " Ne plus ultra" statement.
Coney patent mark. Coney did some amazing corkscrews relying on a clutch mechanism. The coney clutch !!
BB Wells of London on the sidewinder.
Chas Hull mark for Charles Hull, Birmingham.
57 Cornhill on the bottle grips. Yes !!
Loach and Clark, Birmingham. Amazing badge and patented !
Greely US Patent mark on a puller. March 6 th 1888.
Cope & Cutler badge on a Thomason.
Lund at 57 Cornhill on the puller for a lever corkcrew. An early variant.
The Mauds mark on the shaft. Probably made by Hipkins.
The mark for B.A Hjorth on the handle of a Qvarström second patent.
Cope & Cutler, Birmingham.
Mechi at Leadenhall Street, London. Well known and high quality.
Twiggs 1868 us patent on the pillar.
James Heeley and sons on an Empire, Birmingham.
The magic twist mark on a Bradnock CS. Ca 1883.
Hedqvist mark, Eskilstuna
The patent lever. James Heeley mark on a lever corkscrew. Basically a copy of the original Lund patent.
Julius Slöör patent Stockholm. Mark on the handle of a direct pressure corkscrew.