John Mechi, No 4 Leadenhall Street London
- razor strops, vanity boxes and making
corkscrews

John Joseph Mechi was a business and merchant person. He was born in 1802. His father was Italian but John was born in London. Mr Mechi senior claimed to have had connections with Italian royalty. Whether this was true or not is not confirmed. However, he was a barber by trade and was employed briefly as court barber. Thus, Mechi senior held a position at the Court of George the third. The royal connections were maintained as John claimed an early acquaintance with Queen Charlotte and some other royal persons.

At the age of 25 John started his first business as a merchant person. Later in life he also entered the farming business and acted as an agriculturist. John Joseph had a plan to lift himself upwards and become a man of importance and he certainly worked his business activities to the bitter financial end.
He started off at the age of 16 as a clerk in a mercantile house in Walbrook. This company was engaged in North America trade. He remained there until he opened his own shop in Leadenhall Street. Mechi started his company in 1827 and was appreciated as a prominent cutler. The shop also made and sold razor equipment, vanity boxes and lots of other gentlemen's and ladie's items
The royal experience gave him taste for nobles, flair and style. Thus, John started to focus on producing and selling hight quality items to ordinary people. He realized that to be succesful a broad productline of items were necessary and that the shop should produce and sell expensive items as well as cheaper alternatives under the very same roof. This was a new approach, and as it became evident, a very successful approach. Vanity and fragrance of upperclass put to work.
Mechi was married twice. He got three daughters and one son. Mechi became a prominent man in London at the time. Within the City of London he was appointed Sheriff in 1856. In 1858 he became alderman in the ward of Lime Street. However, there are no records of Mechi having formal legal education or training. He was a business man and he sometimes gave lecturers on doing successful business. Later in life his business skills were to fail on him.
At the time he still supplied and made cutler's wares, dressing cases, vanity boxes and lots of similar goods. Mechi developed his own strong business principles of conduct. Those principles included to manufacture only articles of first quality in material and workmanship. Mechi never required exorbitant profits from his customers. Instead, he charged a moderate price for items fully paid in cash ensuring customers coming back for trade. Finally, Mechi always put the customer in focus and he listened carefully to the wants and wishes of his consumers. Thus, this was an early strong customer oriented approach that to a high degree has been lost in today's trade.

Mechi encouraged a workforce with a liberal spirit and employed only the best workmen and manufacturers. The business employed some 30 persons at the height of the business. However, the day to day business was probably managed by his partner Mr Charles Bazin.
A high end razor kit box made by Mechi. An absolutely top quality item.
Mechi at his finest moments. His vanity boxes has some resemblance with the early works of Thomas Lund.
An invitation for a lecture in business best practices. Mechi did some major devastating and risky investments. Eventually, bad business caused his death.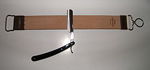 Mechi got famous for designing the "Magic Razor Strop". A razor strop is a strip of leather or canvas used to straighten and polish the blade of a straight razor or knife before using it. This invention was successful and lifted his business significantly. Mechi expanded his business and moved to larger premises in the same area. However, about 1850 beards became fashionable. This was a severe setback for Mechi. His razor equipment was not a necessity any more. In 1856 his company went bust because of these problems and Mechi exited the razor equipment business. Very likely, the Mechi corkscrew productions ended at this time as well.
Clearly, the Mechi shop made corkscrews. From 1830 and onwards he made peg and worm corkcrews as well as King's screws and Thomason's. The productions were all of very good high end quality. However, he was never granted any patents for corkscrews. Thus, his importance was in producing highend corkscrews as well as other quality items. Below I display a nice example of a Thomason and a fantastic 4 pillar sidewinder corkscrew. Both are exceptional and reveals a history of style and elegance.
Mechi did not give up because of his razor equipment business failure. He reinvented himself together with his partner Charles Bazin. Bazin was a skilled Cutler and began to work with Mechi at the age of 16. It was probably he who managed the shops and the business so that Mechi was free to work at becoming Mayer of London. Mechi managed to become an Alderman but never made Mayor. He spent the profits from the business to further his ambitions and finally signed it all over to mr Bazin so he could devote himself to farming and politics.

Furthermore, the two men launched and sold window lamps. This shop was in Regent Street. In 1860 the name of the firm was changed to Mechi and Bazin. Bazin died in 1865 at 40 years of age. Charles was a family man who worked hard so his family would be comfortable. His untimely death could no doubt be attributed to hard work and the financial worry about the running the business.

After Bazin's death Mechi had again to take sole responsibility for the business relying of Mr Bazin's widow as manager. Thus, when Charles died his wife and brother in law managed the shops for about three years until Mechi decided they weren't making enough money to fund his ambitions. Mr Mechi forced them to court and took back the company leaving Mrs Bazin with 6 children to support. Mr Mechi was not at his finest moments and was probably becoming under financial scrutiny at this time.

In general, managing retail business was probably a new and bad situation for Mechi, and as it seems Mechi became somewhat careless after Bazin's death. Mechi had relied on Mr Bazin for all day to day activities, and a fair guess would be that Mechi didn't have the operational knowledge to run the business. Mechi and his second wife Charlotte were at the time residing at the Regent Street address. All according to the 1871 census.
Mechi had a keen interest in farming and agriculture and began constructing a model farm in Essex. Mechi was knowledgeable and in 1857 he wrote a best seller on how to improve farming profitably. The focus for efficiency was usage of drainage and steam power to make farming profitable.
Unfortunately Mechi made unlucky financial investments. Mechi became insolvent with the failure of the Unity Joint Stock Bank 1866. Furthermore, he was guaranteeing insurance policies for a Life Assurance company. In early years he learned marine new foundland trade. Marine insurance was probably the business he was in. The insurance demands on him personally became significant. These demands forced him to liquidate a large part of his assets. After his unlucky business in banking and insurance he resided at his farm.

Mechi was passionate about farming and as it seems had good connections not only in politics but also at local levels. Around 1850 a group of farmers became increasingly concerned about the poverty within the farming community and the absence of an official body to represent them. Mechi engaged himself to rally support for a foundation with the aim to support farmers in need of funds. Mr Mechi founded the The Royal Agricultural Benevolent Institution in 1860. The institution is still vivid and operational.
Eventually, his luck finally ran out when his farm had several bad seasons. He became seriously ill and died at his farmhouse in 1880 broke and with lost illusions. There is no doubt that his death was caused by the misfortunes that overtook him at the end of his career. His last address was 439 Strand and that was also the address where two of his daughters resided in the 1881 census. Mechi's second wife was still residing at the farm with his son and one daughter.

His partner Mr Bazin has somewhat been forgotten in the story of Mechi. It is often the case that men of ambitions have hard working silent partners who achieves much but not the glory.
Mechi and Bazin will be remembered for exceptional highend items. Their boxes, razor kits and corkscrews are fantastic items and are amongst the best in the marketplace. The Mechi badge corkscrews and vanity boxes are quite rare but appears at auctions from time to time.
An example of a Thomason made by Mechi.