During the mid and early 1900 th century corkscrew productions and assembly were common. The art of extracting the cork attracted lots of manufacturers. Some manufacturers became very prominent and was granted different and numerous patents. Others were very knowledgeable in procedures to manufacture and assembly corkscrews. Their companies became large manufacturers, not only of corkscrews, and continued trading for a significant amount of time. They all became famous for their endeavors. Names like Hipkins, Lund, Cotterill and Heljestrand are prominent manufacturers.


Then there very others who also were excellent manufacturers or retailers, but were too early or too small to get the appreciation they ought to have gained. On this page I will list and illuminate two small insignificant and unknown manufacturers of the past. They all have one common characteristic: They can not be found in any reference litterature. However, some historical analysis will reveal that they have existed and that the goods they produced certainly were genuine and original. Georg Palmer was probably a retail person while Mr Willmore was a manufacturer.

Thanks to excellent online UK census and parish records some information about the persons can be revealed.



Georg Palmer of No 1 St. James'S ST, london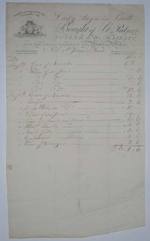 According to the census Georg Palmer was a cutler to his Majesties' court. The parish records say a Mr. Georg Palmer of St James's street was married in St James's church to a Miss E. Leathly in 1825. Mr. Palmer lived at No 1 St James's street. This is a prominent adress in London. Thus, he must have been raised in a traditionally well situated family. From what we know, Georg Palmer made various types of boxes. His story is similar to the ones of Lund and Mechi.

As it seems he made boxes of high quality. He probably made a variety of vanity and dressing boxes. The box below to the right is both a writing and a dressing box. It has a screw down mechanism so that it can be secured to the floor.

He must have stayed at No 1 St James's street for quite some time. Thus, maybee his business did't require larger premises. In census records it is revealed that he moved to 2 St James's Street in 1877, and then to no 9 King Street in 1883. By this time he is very old and must have been retired.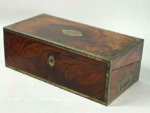 The box to the right was sold to a Lady Augusta Leith. The receipt is dated 1814 and was for £6 and 1 shilling. Interestingly she paid 3 shillings for a corkscrew. Now we know he sold early corkscrews and that he likely must have been born prior to 1800.

Georg Palmer is not documented in any history book. He is recognized for his boxes and pieces are coming up at auctions from time to time. His corkscrews are not appearing in any reference literature. He is simply unknown besides for the boxes. The below corkscrew is high end quality and all details are very impressive.
The manufacturer has marked both sides of the skirt ' PALMER St. JAMES'S ST. '
Joseph willmore of inge street, birmingham.
Joseph Willmore was the grandson of Thomas Willmore who was one of the numerous silversmiths active in Birmingham in the end of the 1800 th century. Joseph Willmore was born in 1773, thus a bit before the early stages of the industrial revolution. Thomas Willmore business had a partnership with a certain James Alston. Both were independent silversmiths. Thomas Willmore was also a bucklemaker and James Alston operated as a button maker. Thus, the productline was broader than just silver work.

Joseph Willmore took over the business on Thomas's death in 1816. Joseph had registered his mark at Birmingham Assay Office as a snuff-box maker. At the time he also made excellent silver items. Later he registered a new hallmark at Assay Office as a maker of handles of knife, spoons and forks and such items.

Willmore resided in Birmingham. A significant amount of back-to-back houses were built in Birmingham during the end of the 19 th century. Most of these houses were concentrated to the inner city areas such as Aston and Highgate. One of these houses became the base for his business venue.
By 1802 Joseph Willmore resided at Inge street were he developed a block or court for living as well as workshops. Before he resided at Bread street. Inge street consisted of six front and eleven back houses with workshops at the end of the building plot. When the premises opened, it was known as Willmore's Court. Joseph entered a partnership with two other Birmingham silversmiths at this time. Clearly, Joseph's main business line was silverwork.

As a snuff-box maker he recognized appreciation and was acknowledged for the excellent work put into the sold items.
He also registered a London office in 1814. He had a showroom in Holborn. This fact suggests that he had a good sence for business. He understood the importance of marketing products to wealthy customers living in London.

Usually a silversmith delegated marketed operation to a retailer who had the close relationship with the customers. Joseph Willmore wanted to have control over the marketing of his products. Thus, he created his own showroom. In todays terms it would be the " flagship or concept " store . Nowadays a quite familiar marketing strategy.

The punched mark for Joseph Willmore.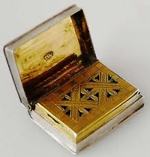 The industrial revolution created additional business opportunities. Although, he was a silversmith he also was an emerging entrepreneur and started to produce simpler iron and brass items.
Clearly, as an an entrepreneur he pursued improvements of industrial productivity by using newly invented technology.
In the 1820 UK trade directory he was mentioned not only as a gold and silversmith but also as a plane maker. As it seems he was diversifying into toolmaking and craftsmanship.

Associated with a partner he was granted a patent for a new method to manufacture nails. This was in 1808, a few years before steam power was widely introduced as main power in the factories. A bit bad timing. His invention required Man / Leg force to work.

Joseph Willmore is not known for making corkscrews other than the silver ones. In fact, he is unknown as a brass / bronze corkscrew maker or assembler. However, his distinctive mark ( J W ) can be found not only on silver items and corkscrews but also on Thomason's. It is speculative to assume that the J W mark refers to Joseph Willmore. However, due to the fact that he made tools and nails and surely other items as well, we could assume that Willmore made Thomason corkscrews as well. There are also a few examples of traditional sidewinders. We surely know he made silver corkscrews with high quality.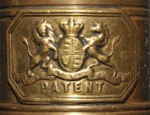 The Thomasons were very traditional in quality. Below is an example of an assembled Thomason. Nothing spectacular and quite low quality. The badge above is not fancy at all. Just a J on one side and a W on the other side of the capricorn. Clearly a simple piece and probably made in a rush.

Today the Willmore badge on corkscrews are uncommon. They are quite rare.





Above is an example of a Traditional Thomason made a few years after the original patent was expired. A date would be around 1840 isch. The CS is made of brass.

As it seems Joseph Willmore was active in Birmingham until 1843. He dies quite old in 1855.

As silversmith he gained full appreciation as a high end quality manufacturer. As a mechanical corkscrew manufacturer he is clearly very unknown.